Disaster Preparedness & Response
Large-scale catastrophic incidents such as natural disasters, epidemics, air or rail crashes, infrastructure/utility outages, extreme weather and terrorist attacks, can happen anywhere, with little or no warning, and can have devastating effects on communities.
Preparedness requires a coordinated effort involving every level of government, as well as the private sector, nongovernmental organizations and individuals. MetroAtlanta Ambulance Service provides an important role in the local Emergency Response System.
Working closely with the local county Emergency Management Agencies, Law Enforcement Agencies, Fire Departments, Georgia Office of EMS & Trauma, Georgia Office of Emergency Management and Homeland Security and the National Highway Traffic Safety Administration-Office of EMS, Metro Atlanta Ambulance participates in a variety of disaster training exercises with other local agencies in preparation for responding to disasters.
County Emergency Operations Center (EOC)
Each County Emergency Management Agency has a secured facility that provides a single, recognizable focal point for disaster management. The EOC carries out seven basic functions during a disaster: startup or activation, administration and event documentation, information management, resource management, disaster analysis, decision making, and recovery.  The County EOC handles emergencies that are too large to be controlled from an on-site command post; Provides inter-agency coordination and executive decision making for managing disaster response and recovery; Assures that communication efforts are quick and effective with responding agencies, the general public, the media, and others and finally ensures the integrity of operations and keeps unauthorized persons from entering the facility with the assistance of security personnel and systems.
A team member of Metro Atlanta Ambulance Service serves in the role as the EMS Transport Coordinating Agency anytime the local Emergency Operations Center is activated for Disaster Operations.
Disaster Response Team
The Metro Atlanta Ambulance Service Disaster Response Team (DRT) can quickly assemble and respond to communities outside of the company's primary response area to assist the local Emergency Responders meet the needs of their community.  A request for assistance normally comes through the Georgia Office of EMS & Trauma, local Emergency Management Agency (EMA) or the local Federal Emergency Management Agency (FEMA) but may come directly from the local EMS transport provider for that area.  The Disaster team can normally be enroute to an area of devastation within 12 hours with up to 10 teams.
MetroAtlanta Ambulance's Role in State and Worldwide Disasters
MetroAtlanta Ambulance Service serves as the Coordinating EMS Transport Provider for the National Disaster Management Response Team at Dobbins Air Reserve Base in Marietta, GA.  Within hours of notification, MAAS can have a transport sector established and EMS units on site for transportation of any evacuation efforts into the base when disasters strike communities throughout the world.
MetroAtlanta Ambulance Service serves as the EMS Coordinating Agency for the Evacuation of Vulnerable Populations for the Georgia Department of Emergency Management and Homeland Security when the State Emergency Operations Center activated.
MetroAtlanta Ambulance Service is the call intake communications center for the Georgia Office of EMS & Trauma Infection Disease Transport Network.
MetroAtlanta Ambulance's Response to Natural Disasters
National Disaster Management System (NDMS)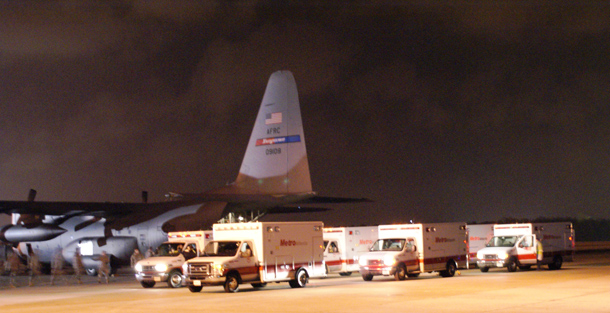 Hurricane Katrina
Hurricane Katrina in 2005 was the costliest hurricane, as well as one of the five deadliest, in the history of the United States.  Among recorded Atlantic hurricanes, it was the sixth strongest overall.  The hurricane formed over the Bahamas on August 23, 2005 and crossed southern Florida as a moderate Category 1 hurricane, causing some deaths and flooding there before strengthening rapidly in the Gulf of Mexico. The storm weakened before making its second landfall as a Category 3 storm on the morning of Monday, August 29 in southeast Louisiana. It caused severe destruction along the Gulf coast from central Florida to Texas, much of it due to the storm surge. The most severe loss of life occurred in New Orleans, Louisiana, which flooded as the levee system catastrophically failed, in many cases hours after the storm had moved inland. Eventually 80% of the city and large tracts of neighboring parishes became flooded, and the floodwaters lingered for weeks. However, the worst property damage occurred in coastal areas, such as all Mississippi beachfront towns, which were flooded over 90% in hours, as boats and casino barges rammed buildings, pushing cars and houses inland, with waters reaching 6–12 miles (10–19 km) from the beach.  At least 1,836 people lost their lives in the actual hurricane and in the subsequent floods, making it the deadliest U.S. hurricane since the 1928 Okeechobee hurricane. Hurricane Katrina in 2005 was the largest natural disaster in the history of the United States. Total damage was $81 billion (2005 USD), nearly triple the damage wrought by Hurricane Andrew in 1992. (Excerpt from Wikipedia)
An evacuation effort of citizens from New Orleans to Marietta, Georgia began September 1, 2005.  MAAS established an EMS Transport Command Center as part of the National Disaster Management System.  A single plane with evacuees was scheduled to fly into Dobbins Air Reserve Base in Marietta and MAAS was to transport the patient to a local area hospitals.  The mission grew into an event lasting two weeks with more than 19 flights 10,036 evacuees and patients being flown into Dobbins ARB on Air Force C-5A and C-130 Hercules.  MetroAtlanta Ambulance's leadership team managed the entire incident without any interruption to normal 9-1-1 or Interfacility operations.  Thanks to the generous and unsolicited outpouring of support for our Medics from the Cobb community including local Churches, restaurants and businesses, the crews stationed in the transport holding area never went hungry.
Hurricane Rita
In 2005, less than a month after Hurricane Katrina devastated large parts of the central Gulf Coast region, Hurricane Rita was the second hurricane of the season to reach Category 5 status (on the Saffir-Simpson scale) in the Gulf of Mexico. This marked the first time on record that two hurricanes reached Category 5 strength in the Gulf of Mexico in the same season. Additionally, it was only the third time that two Category 5 storms formed in the Atlantic Basic in the same year.  One of the strongest storms on record for the Atlantic Basin, peak sustained winds reached 175 mph as the storm tracked west and northwest through the Gulf. Weakening occurred during the 36 hours prior to landfall but Rita brought hurricane strength winds more than 150 miles inland and caused significant damage along the coast. Hurricane Rita made landfall with wind speeds of 120 mph along the Texas/Louisiana border early on September 24th.  Although the region was well-prepared for the storm, the devastation across the Louisiana/Texas border region was widespread. While there were few reports of injuries or deaths as a direct result of the storm, unlike the large loss of life from Hurricane Katrina, a massive evacuation effort likely saved much loss of life. (Excerpt from Wikipedia)
MetroAtlanta Ambulance established an EMS Transport Command Center as part of the National Disaster Management System again at Dobbins Air Reserve Base in Marietta.  Three Flights with 246 evacuees from local Louisiana skilled nursing facilities and hospitals were transported to local facilities throughout the greater-Atlanta area.  In addition, several patients injured from the storm were later transported to local area hospitals.
Americus, Georgia
Americus was the target of a tornado around 9:15 P.M. on March 1, 2007. The EF-3 tornado was up to one mile wide, and carved a 38 mile path of destruction through the city and surrounding residential areas. It destroyed parts of Sumter Regional Hospital, forcing the evacuations of all of the patients there. There were two fatalities at a Hudson Street residence near the hospital; all SRH patients were evacuated safely. The hospital, however, faced major reconstruction issues.  A makeshift medical facility was opened in a parking lot adjacent to the damaged hospital structure.  The businesses around the hospital were totally destroyed.  Over 500 homes were affected, with around 100 completely destroyed. Several businesses throughout the town were seriously damaged or destroyed as well. MAAS sent a Disaster Response Team to assist the local EMS provider maintain 9-1-1 coverage and assist in the evacuation efforts of the hospital and surrounding nursing facilities.
Haiti Earthquakes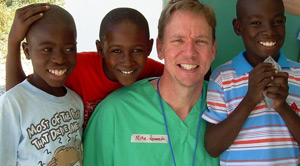 In 2010 Haiti was struck with a catastrophic earthquake measuring 7.0, with its epicentre near the town of Léogâne, approximately 16 miles west of Port-au-Prince, Haiti's capital. The earthquake occurred in the evening onTuesday, 12 January 2010.  By January 24th, at least 52 aftershocks measuring 4.5 or greater had been recorded.   An estimated three million people were affected by the quake; the Haitian Government reported that an estimated 230,000 people had died, 300,000 had been injured and 1,000,000 made homeless.  They also estimated that 250,000 residences and 30,000 commercial buildings had collapsed or were severely damaged.  Many countries responded to appeals for humanitarian aid, pledging funds and dispatching rescue and medical teams, engineers and support personnel. Communication systems, air, land, and sea transport facilities, hospitals, and electrical networks had all been damaged by the earthquake, which hampered rescue and aid efforts; confusion over who was in charge further complicated early relief work. (Excerpt from Wikipedia)
MetroAtlanta Ambulance responded to the call of local FEMA Officials. MAAS deployed a Disaster Response Team to Haiti to provide much needed relief to volunteer workers and victims of the earthquakes. The medics deployed with a mission group from First Baptist Church of Woodstock  to a small village in Fond Parisian, Haiti—about 40 miles east of Port au Prince. The team operated a small clinic & OB hospital out of the Haiti Christian Mission from February 6-12, 2010. During their time there the team treated over 900 patients.  In Marietta, MAAS coordinated ground transportation over a four-week period for more than 51 severely injured patients evacuated from Haiti into Dobbins Air Force Reserve Base as the EMS Transport Sector Coordinating entity for the National Disaster Management System (NDMS) "Team Atlanta".
Ringgold, Georgia
On the night of April 27, 2011, one of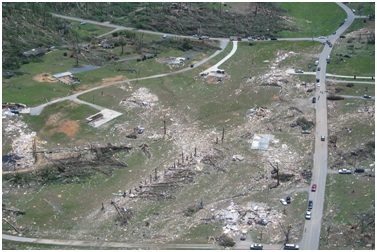 the longest running EF-4 tornados in history worked its way across Arkansas, Mississippi, Alabama and up through Georgia before hitting the city of Ringgold  leaving in its wake a path of devastation and destruction.  Over 100 homes and multiple businesses and schools were damaged or destroyed, more than 20 people were killed and more than thirty others were severely injured.  The tornado cut a 48-mile path through Ringgold that was estimated to be one-half mile wide with winds between 175-190 miles per hour.  Surrounding EMS agencies came to the aid of the local EMS provider immediately and for weeks afterwards as the community began to piece back their lives, their businesses and their homes.  MetroAtlanta Ambulance Service sent several Disaster Response Teams to assist the local EMS provider maintain 9-1-1 coverage in the storm damaged area and give the local responders time to take care of their personal affairs. 
Hurricane Dorian
In 2019, Hurricane Dorian was an extremely powerful and destructive Category 5 hurricane that devastated the northwestern Bahamas and caused significant damage to the Southeastern United States. It was the fifth depression, fourth named storm, second hurricane, and the first major hurricane of the 2019 Atlanta hurricane season. The hurricane caused catastrophic damage to Grand Bahama and Abaco Island with at least 70,000 people left homeless, thousands of homes destroyed and a large number of deaths.
In preparation for the storm, the states of Florida, Georgia, South Carolina, North Carolina and Virginia all declared a state of Emergency and many states including Georgia issued mandatory evacuation orders.
When Governor Brian Kemp declare a State of Emergency in Georgia, MetroAtlanta Ambulance Service sent a highly trained Disaster Emergency Response Team to the Georgia Emergency Management Agency (GEMA) Emergency Operations Center in Atlanta, Georgia to assist Department of Public Health and State Office of EMS officials coordinate emergency transportation and to manage operational support for the evacuation of vulnerable populations along the east coast of Georgia. The MAAS team worked with GEMA operation officials to stand up a multi-agency coordination center to provide statewide support to local jurisdictions throughout the state of Georgia in preparation for the impending disaster.  The MAAS disaster response team was deployed to manage and facilitate vehicle transport services from first responder staging areas along the eastern coast of Georgia.  The Disaster Response Team assisted in proactively coordinating the timely evacuation of thoughsands of medical patients and senior individuals to inland locations well in advance of the landfall of Hurricane Dorian. MetroAtlanta Ambulance also sent six ambulance units and a supervisor to join other responder agencies at a staging area outside the of City of Savannah.  The crews eventually assisted in the evacuation of several medical patients prior to the storm surge.