Injury Prevention
Metro Atlanta Ambulance Service is the lead agency for SafeKids Bartow and has partnered with SafeKids Cobb and the Cobb Safety Village to educate kids, parents and others on injury prevention. Programs provided cover Child Passenger Safety, Pedestrian and Bike Safety, Water Safety, Home Safety, Poison Prevention and Fire Safety.
The coalition is a group of government, business, civic and non profit organizations all coming together to educate kids in our communities about safe practices. Through our efforts, we are able to reach more people more often in our community and the statistics are proving we are making our community a safer place for our children.
Safety Information
To learn more about Georgia's Child Safety Laws and to download factsheets and safety tips on a variety of child safety subjects go to http://www.safekids.org
Car Seat Inspections
Safe Kids provides free car seat inspections throughout the week. Go to http://www.safekidscobbcounty.org/events.html for more information on dates and times.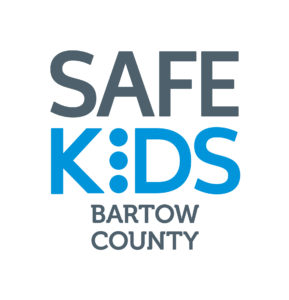 It is the mission of the coalition to make sure every child is properly restrained in an appropriate Car Seat. SafeKids makes car seats available to residents of Bartow, Cobb and Douglas counties who cannot afford one and are income eligible. To qualify you must be a current recipient of a government assistance program (WIC, Medicaid or PeachCare) or meet income eligibility requirements. The program is limited to one car seat per child, and parents or caregivers must attend the car seat education class to receive the seat. Please bring a $20 donation to the class.
For the latest updates and important safety information like and follow us on Facebook @safekidsbartowcounty