9-1-1 Emergency Ambulance
9-1-1 service is a vital part of every community's emergency response system and communities in Georgia depend on MetroAtlanta Ambulance Service to provide responsive and reliable 9-1-1 ambulance transportation when they need it.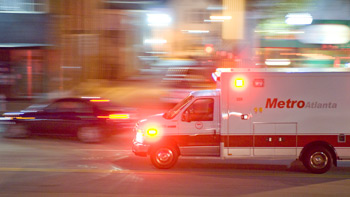 Developing a public/private partnership for EMS response that benefits all stakeholders has proven to be a successful, cost-effective solution for governments with large populations demanding economy, efficiency and benefit to the public welfare. MetroAtlanta Ambulance has a positive track record, along with the experience and professional expertise, to develop a successful model that can meet the ambulance needs of a growing community without placing an undue financial burden on those being served.
MetroAtlanta Ambulance Service provides 9-1-1 response and ambulance transportation to a population of more than 600,000 residents and visitors in Cobb County, Georgia including the cities of Acworth, Kennesaw, Marietta and Smyrna. In a successful public/private partnership with local government agencies, MAAS is providing a vital link in the EMS and disaster preparedness/response system in the community.
To request more information about MetroAtlanta Ambulance's 9-1-1 Services contact our Vice President of Strategic Development at 770-693-8441