Non-Emergency Transportation
Passenger, Wheelchair and Non-Ambulance Stretcher Van Service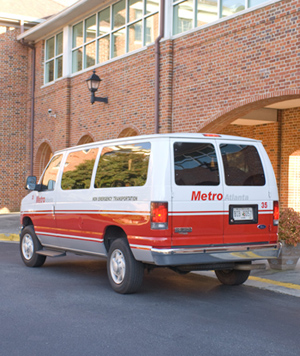 An important link in the delivery of healthcare, wellness and rehabilitation is a patient's ability to get to their appointments on time. MetroAtlanta realizes that all patients do not require an ambulance to get where they need to go for medical evaluation, physical therapy and rehabilitation but some patients do have a level of mental, physical or medical limitation that requires assistance by passenger van, wheelchair or stretcher. MetroAtlanta's N.E.T. services are an excellent financial alternative to patients whose condition does not meet the definition of "medical necessity" for an ambulance but who do require assistance in getting to their appointments.
We offer non-emergent transportation by passenger van, wheelchair and non-ambulance stretcher van to patients through our contract customers. We also provide specialized Behavioral Health Transportation.
Non-Emergency transfers can be arranged for across town or out of state trips.
To request non-emergency transportation or to talk with a Customer Service Representative about contracting for services, contact our Communications Center at 770-693-8480.