About Us
In 2001 MetroAtlanta Ambulance set out to design a medical transportation system to meet the emergency and non-emergency transportation needs of our community by developing win-win solutions for local hospitals needing to get patients moved in and out of their facilities, without placing an undue financial burden on the facilities or on the patients being served.
Our formula for success included hiring the best EMS professionals in the industry, offering a safe and innovative work environment, a competitive salary and robust benefits package, state-of-the-art equipment and a promise from the owner to include all employees in the decision-making processes and profits of the company. Our vision to provide Excellence in Patient Care and Customer Service continues to play a vital part in every decision we make.
---
"We made the right decision in selecting MetroAtlanta Ambulance as our 9-1-1 public/private partner for Cobb County. They have never wavered in their commitment and their performance has exceeded our expectations on all levels."
– Mr. David Hankerson, County Manager
Cobb County, Georgia
---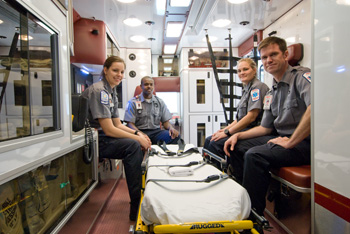 The Company has grown from 10 employees and 2 ambulances to a medical staff of more than 800 professional, a fleet of more than 110 vehicles, a state-of-the-art communications center and fleet maintenance facility, along with an in-house EMS Academy.
On September 10, 2001, the Company was awarded 9-1-1 response zones in Cobb County by the Georgia Department of Public Health. Today Emergency 9-1-1 responsibilities span 1,200 square miles and cover more than 1 million residents in the north Georgia counties of Bartow, Cobb and Paulding and we are providing innovative transport solutions to 6 world-class healthcare systems throughout the greater metro-Atlanta area.
MetroAtlanta Ambulance also established the MetroAtlanta EMS Academy, a consortium with Kennesaw State University-WellStar School of Nursing, to provide a Paramedic training program that allows working EMS professionals the opportunity for educational development and growth by providing access to quality instruction, education and practical training courses required to pass the National Registry of EMT paramedic certification exam. In 2014 the MetroAtlanta Community Paramedic Program was established to provide expanded paramedic scope practice in our community.
We are proud to serve the citizens of Georgia, proud of our employees, proud of our leadership in our community and proud of the progress we have made toward our pursuit of "Excellence in Patient Care and Customer Service."
As we keep our eye on the future of healthcare in America, we will continue to be actively involved in our industry and will position our company to be an economically-viable solution for providing pre-hospital care and medical transportation for our communities.

Mission
To provide excellence in patient care and customer service.

Vision
To be a leader in the medical transportation industry for our ethics, integrity, high quality clinical care, customer service, professionalism and commitment to serve others.
Personal Accountability – We are willing to answer for the outcomes resulting from our choices, behaviors, and actions.
Respect – We have a high regard and esteem for others.
Compassion – We have a deep awareness of the suffering of another and the desire to alleviate it.
Honesty – We are fair and truthful at all times.
Integrity – We do our job to the best of our ability, even when no one is looking.
Passion – We have strong enthusiasm and devotion to EMS and to our mission.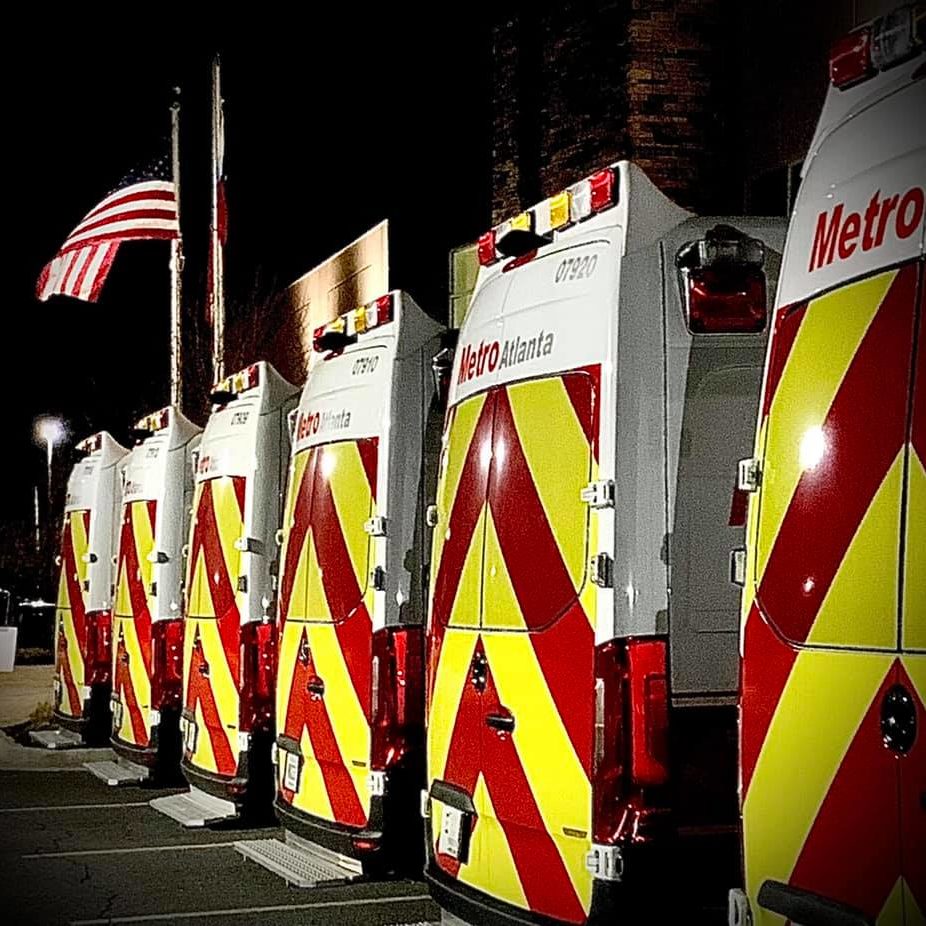 MetroAtlanta Ambulance Service is an ambulance provider licensed by the State of Georgia, Office of EMS and Trauma.
Emergency and non-Emergency transports, including basic life support, advanced life support and critical care, is provided 24-hours a day, 365 days a year.
---
A fleet of vehicles which includes Mercedes Sprinter ambulances, Ford E-450 and Ford F-450 ambulances, are used to perform both 9-1-1 Emergency scene transports and inter-hospital patient transfers.
---
Requests for service are received from authorized 9-1-1 public safety answering point (PSAP) centers in Bartow County, Cobb County, Paulding County and the cities of Marietta, Smyrna, and Kennesaw/Acworth, Georgia. Inter-facility hospital transfers are received from authorized hospital personnel.
---
Requests for service are accepted without discrimination due to race, creed, sex, color, age, religion, national origin, ancestry, handicap, or ability to pay. Emergency scene responses or requests, in the MetroAtlanta Ambulance service area, which involve a patient with a potentially life threatening illness or injury, are accepted without pre-screening for the ability to pay.
MetroAtlanta Ambulance staffing consists of an EMT and AEMT for Basic Life Support,  AEMT and Paramedic for Advanced Life Support and an AEMT/Paramedic and Critical Care Paramedic for Critical Care Transports.
---
All medical crews provide ambulance transport for a wide variety of patients, from adult to pediatric age, suffering from varied medical diagnoses or traumatic injury.  Additionally specialty teams from local hospitals, to include a physician, registered nurse or other licensed healthcare professional, are utilized to accompany our crews on extracorporeal membrane oxygenation (ECMO) and other critical care transfers.
---
The medical crew members perform assessments and intervene with basic and advanced skills, when required, using protocols approved by the MetroAtlanta Ambulance Physician Medical Director, at the direction of a receiving facility's Medical Control Physician.
---
NOTE:  During a State or Federal Declaration of Emergency, an Emergency Medical Responder (EMR) or EMT-Recruit in a driver-only status, may be partnered with an EMT to staff a BLS ambulance to provide non-emergency, inter-facility transfers.
We are committed to ensuring and enhancing the health, safety and quality of life in the communities we serve.
The quality of life in a community directly affects the success of the local businesses and Beyond the Lights and Sirens of delivering ambulance service, we remain committed to working closely with local governments, healthcare systems, businesses, civic and non-profit leaders on projects that promote and enhance the wellness, health, education and safety in the communities we serve. By providing medical coverage at special events, supporting employee volunteerism and providing corporate philanthropic support to organizations with programs addressing disease prevention, accident/safety prevention, behavior health and other social issues affecting our communities, we are an integral part of the solutions driving change for the better and collectively impacting the lives of those we serve.
---
Media Relations
MetroAtlanta Ambulance's Media Relations team is available 24/7 to assist local media covering EMS activities, local events and to ensure accurate information regarding incidents and services provided is communicated.
Contact
Office:  770-693-8426
Mobile: 404-392-9991