Disaster Preparedness & Response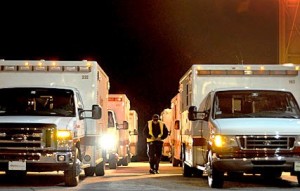 Large-scale, catastrophic incidents such as natural disasters, epidemics, air or rail crashes, infrastructure/utility outages, extreme weather and terrorist attacks, can happen anywhere, with little or no warning, and can have devastating effects on communities.

Preparedness requires a coordinated effort involving every level of government, as well as the private sector, non-governmental organizations and individuals. MetroAtlanta Ambulance Service provides an important role in the local Emergency Response System of Bartow, Cobb and Paulding Counties.
MetroAtlanta Ambulance regularly participates in a variety of disaster training exercises with other local agencies in preparation for responding to disasters.  These agencies include: Local County Emergency Management Agencies, Law Enforcement Agencies, Fire Departments, Georgia Office of EMS & Trauma, Georgia Office of Emergency Management and Homeland Security and the National Highway Traffic Safety Administration-Office of EMS.
---
"My mom and I were very impressed with the professionalism and care received from your crew while assisting my mom. They had to carry my mom down 15 narrow stairs. They used ingenuity and creativity to get her down the steps safely and with little discomfort. I was very impressed with them."
– The Heaton Family
---
COVID-19 Pandemic Response
On March 11, 2020, under the leadership of President Donald Trump, the United States of America declared a public health emergency in response to the COVID-19 Virus outbreak that began in China.  President Trump named the Federal Emergency Management Agency (FEMA) as the lead agency in the COVID-19 emergency response efforts at that time. The declaration came as part of a broader effort to bolster the U.S. economy and contain the virus as it continued to quarantine workers and consumers, ground flights, close factories and schools, ban public events, disrupt supply chains, impact the stock market and cause other fallout.  Federal Funds were made available to help bolster efforts already underway by governors, mayors, county officials, state legislatures and others in state and local government nationwide who have stepped up to mitigate the spread.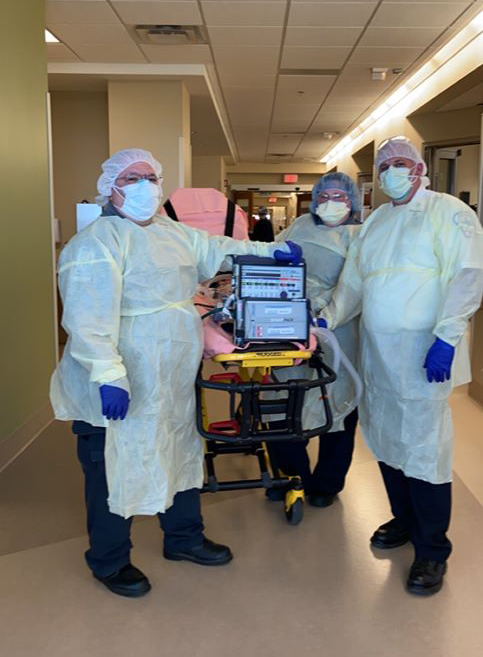 MetroAtlanta Ambulance took immediate actions to ensure the safety of our support staff and crew members responding to patients with suspected or confirmed COVID-19 by having the appropriate personal protective equipment available. The EMS Academy students were moved to a virtual learning format within a week and the patient billing staff were set up to work from home. These quick actions resulted in no interruption of the vital services provided on a daily basis.  In August 2020 as COVID-19 testing became more readily available, MetroAtlanta sent Paramedic teams to assist Cobb-Douglas Public Health staff process thousands of individuals through a mass drive-through testing site at Jim R. Miller Park in Cobb County Georgia.
In January 2021 Cobb-Douglas Public Health requested MetroAtlanta Ambulance for assistance in the rollout and distribution of the highly-anticipated COVID-19 vaccine, with a focus on target populations of front-line healthcare workers and senior populations over the age of 65 years and their care providers.  MetroAtlanta Ambulance received their first shipment of Pfizer-BioNTech Vaccine and immediately set up a vaccination site at MetroAtlanta Ambulance's corporate headquarters in Marietta, GA for front-line healthcare workers. The vaccination center in Marietta continued providing vaccinations to about 300 individuals each day, Monday through Friday, from January until May 2021.
MetroAtlanta Ambulance also sent vaccination teams out to local senior centers, churches, schools and large corporations with staff numbers from 100 to 600 employees to deliver vaccinations on-site.  Over the 5-month period, MetroAtlanta Ambulance assisted public health in vaccinating more than 15,000 individuals before closing the vaccination site in early June 2021.  MetroAtlanta Ambulance also sent a team member to assist Cobb-Douglas Public Health with the mass vaccination site that was established at Jim R. Miller Park until it closed later in the year.
County Emergency Operations Center (EOC)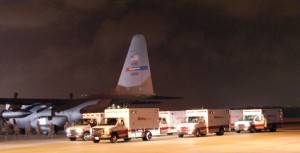 Each County Emergency Management Agency has a secured facility that provides a single, recognizable focal point for disaster management. The EOC carries out seven basic functions during a disaster: startup or activation, administration and event documentation, information management, resource management, disaster analysis, decision making and recovery.  The County EOC handles emergencies that are too large to be controlled from an on-site command post; Provides inter-agency coordination and executive decision making for managing disaster response and recovery; Assures that communication efforts are quick and effective with responding agencies, the general public, the media and others; and finally ensures the integrity of operations and keeps unauthorized persons from entering the facility with the assistance of security personnel and systems.
A team member of MetroAtlanta Ambulance Service serves in the role as the EMS Transport Coordinating Agency anytime the local Emergency Operations Center is activated for Disaster Operations.
---
Disaster Response Team
The MetroAtlanta Ambulance Service Disaster Response Team (DRT) can quickly assemble and respond to communities outside of the company's primary response area to assist the local Emergency Responders in meeting the needs of their community.  A request for assistance normally comes through the Georgia Office of EMS & Trauma, local Emergency Management Agency (EMA) or the local Federal Emergency Management Agency (FEMA) but may come directly from the local EMS transport provider for that area.  The Disaster team can normally be en route to an area of devastation within 12 hours with up to 10 teams.
---
MetroAtlanta Ambulance's Role in State and Worldwide Disasters
MetroAtlanta Ambulance Service serves as the Coordinating EMS Transport Provider for the National Disaster Management Response Team at Dobbins Air Reserve Base in Marietta, Georgia.  Within hours of notification, MetroAtlanta Ambulance can have a transport sector established and EMS units on site for transportation of any evacuation efforts into the base when disasters strike communities throughout the world.
MetroAtlanta Ambulance Service serves as the EMS Coordinating Agency for the Evacuation of Vulnerable Populations for the Georgia Department of Emergency Management and Homeland Security when the State Emergency Operations Center activated.
MetroAtlanta Ambulance Service is the call in-take communications center for the Georgia Office of EMS & Trauma Infection Disease Transport Network.
MetroAtlanta Ambulance's Response to Natural Disasters.
National Disaster Management System (NDMS).