Community Outreach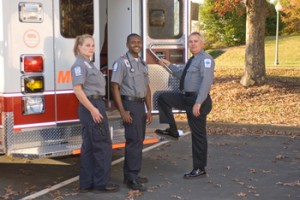 MetroAtlanta Ambulance is committed to ensuring and enhancing the health, safety and quality of life in our community. It's an unwavering commitment President and CEO, Pete Quinones, made when he founded the company in 2001.
We believe the quality of life in a community directly affects the success of the businesses there and Beyond the Lights and Sirens of an ambulance service, we remain committed to working with our local governments, healthcare systems, businesses, civic and non-profit leaders on projects that promote and enhance the wellness, health, education and safety in the communities we serve. Through providing medical coverage at special events, supporting employee volunteerism and providing corporate philanthropic support to organizations with programs that address disease prevention, accident/safety prevention, behavior health and other social issues affecting our communities, we are able to collectively help impact the lives of those we serve.
---
"Please accept the heartfelt gratitude from our congregation for the AED donated by your company to our Church.  Your concern for our faith community has led to a higher level of safety for our church and community members."
– Forrest Cate, Director of Programs
Marietta First United Methodist Church
---
Volunteer & Philanthropic Support
MetroAtlanta Ambulance is committed to ensuring and enhancing the health, safety and quality of life in our communities. Beyond the Lights and Sirens of 9-1-1 emergency medical services, MetroAtlanta Ambulance employees are actively volunteering their time and serving in leadership roles on the boards of local, non-profit agencies helping to change lives in our community. 
Through our volunteer and philanthropic efforts, we are helping to find cures and eradicate diseases. We are educating children and adults on proper Dialing 9-1-1 and instructing them on how the EMS system works. We are teaching wellness and safety prevention to our citizens, along with CPR and first aid classes. We are providing car seats and bicycle helmets to kids that otherwise would not have them. We are feeding the homeless and helping them get back on their feet. We are supporting Church mission work in third-world countries by providing equipment and supplies. We are supporting local communities in our State that do not have the tax revenues to provide adequate EMS services to their citizens. Through our corporate giving, sponsorship of local events and providing in-kind donation of equipment and services, we have and continue to positively impact the quality of life in our community and in communities around the world.
2,500+
CPR Lessons Taught
500+
Stop the Bleed Courses

Over the years, we have been actively involved in supporting the following Charities:
Safe Kids Cobb

SafeKids Bartow

SafeKids Georgia

Friends of The Strand Theater

Kiwanis Club of Marietta

Rotary Club of Paulding County

Marietta Aviation Museum and Education Center

Cobb County School System

Marietta City School System

The Walker School

Mount Paran Christian School

Trinity School

American Heart Association

American Lung Association

American Stroke Association

American Cancer Society

Emory Wesley Wood Foundation
Emory DeKalb Hospital Foundation

Cobb Chamber of Commerce

Cobb Honorary Commanders

Calvary Children's Home

St. Joseph Catholic Church

March of Dimes

All American Soap Box Derby

Cobb Safety Village Foundation

Truist Park-Atlanta Braves

Cobb Health Futures Foundation

Habitat for Humanity

High Museum of Art

Georgia Chamber of Commerce

Family Alliance of Paulding

Paulding Public Safety Foundation

Georgia Association of Emergency Medical Services