Inter-Facility Transport Services

Critical Care Ambulance
Critical Care Ambulance Transport provides the highest level of patient care for the most critically-ill or injured patients requiring transfer from hospital to hospital. A patient requiring Critical Care Transport has a critical illness or injury that acutely impairs one or more vital organ systems, such that there is a high probability of imminent- or life-threatening deterioration in the patient's condition during transport.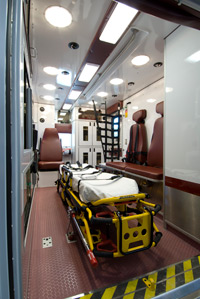 The Critical Care Ambulance Units are designed to accommodate the extra equipment required when transferring patients in critical condition. They are equipped with electric/hydraulic lifts and generators and accommodate a ventilator, intra-aortic balloon pump, multiple IV pumps, high flow oxygen device, an Impella heart pump and/or other specialized equipment required for intensive care monitoring.
Care is delivered by a team of clinical personnel who possess a scope of practice, education, training, experience and requisite decision making skills to assess and support a highly complex patient with active or potential vital organ system failure, and/or at minimum prevent further life threatening deterioration of the patient condition during transport. A specialty Physician, CCRN, RN, Respiratory Therapist or other healthcare professional along with a MetroAtlanta Critical Care Paramedic may accompany the patient during transport when required.
---
"Dear Guardian Angels, In January the two of you responded to a call at my apartment. Because of your promptness and knowledge, the two of you saved my life. I am so grateful to each of you and I thank you for your dedication to your jobs."
– Ms. Anne
---
Basic Life Support Ambulance
Basic Life Support care requires medical monitoring by a licensed EMT and may include monitoring vital signs, pulse oximetry and oxygen. The BLS Ambulance is equipped with state-of-the-art equipment, including an automatic external defibrillator, blood pressure monitoring equipment, pulse oximetry and oxygen delivery devices.
---
Advanced Life Support Ambulance
Advanced Life Support care requires medical monitoring and care by a licensed AEMT or Paramedic and may include monitoring vital signs, advanced drug therapy, cardiac monitoring, oxygen and IV therapy. The ALS Ambulance is equipped with state-of-the-art heart and blood pressure monitoring equipment, pulse oximetry, IV pumps, oxygen delivery devices, including a CPAP and advanced medications used to treat a variety of illnesses and provide pain relief.
---
Bariatric Ambulance
Bariatric Ambulance units are specifically designed and equipped to handle the transfer of obese patients weighing more than 600 pounds. The patient compartment is large and designed to ensure the patient's comfort, safety and dignity during transfer. Specialized equipment is available for handling the excessive weight of the patient and to ensure the safety of the patient, as well as the medical team making the transfer. Care is provided by a clinical team including an EMT, AEMT or Paramedic specifically trained in the use of the bariatric equipment used to assist in transfer of the patient.
---
Air Ambulance Transport
Commercial Airline Medical Escort Services
Our Medical Escort Service program is available to patients who can comfortably sit in an airline seat but require minor assistance and medical monitoring during the flight. MetroAtlanta will provide certified medical personnel and equipment to accompany these patients on board commercial airlines, on both domestic and international flights. We will also coordinate ground support at all stops and when changing airplanes.
---

Charter Air Ambulance
Occasionally when a patient's condition requires specialized equipment, monitoring and a quick transfer over a long distance, a Charter Air Ambulance becomes the most appropriate and cost effective decision.
MetroAtlanta Ambulance has existing relationships to coordinate with several high-quality Charter Air Ambulance companies to make these transfers to facilities outside of the greater metro-Atlanta area.
Contact the MetroAtlanta Communications Center for more information at 770-693-8480.