WellStar Health System and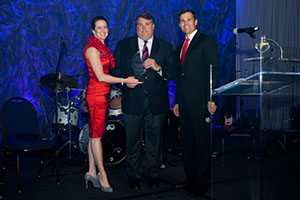 the WellStar Foundation recognized Pete Quinones and Metro Atlanta Ambulance Service with the WellStar Distinguished Service Award, The award recognizes the company's generous support and outstanding leadership in delivering world-class healthcare to the community.
WellStar Foundation president Tracy Atwater stated, "I am honored to present this award to Pete Quinones and Metro Atlanta Ambulance Service, who have been instrumental in developing a world-class STEMI Alert program with WellStar and for most recently helping WellStar Kennestone Hospital become a Designated Level II Trauma Center for the state of Georgia. They provide so much more than just medical transportation to this community. They are actively engaged and involved in the leadership of our community and are helping to ensure the quality of health care being delivered here is world-class."