MetroAtlanta Ambulance medics were on standby as Dr. Lori Salierno, CEO of Celebrate Life International, bicycled into North Cobb Stadium in Acworth, Georgia completing her 3,300 mile journey across America which began on June 10, 2012 in Vancouver, Washington. Salierno, 52, is the founder and chief executive officer of Celebrate Life International in Acworth, a faith-based group that aims to transform at-risk students into responsible citizens through the Teach One to Lead One program.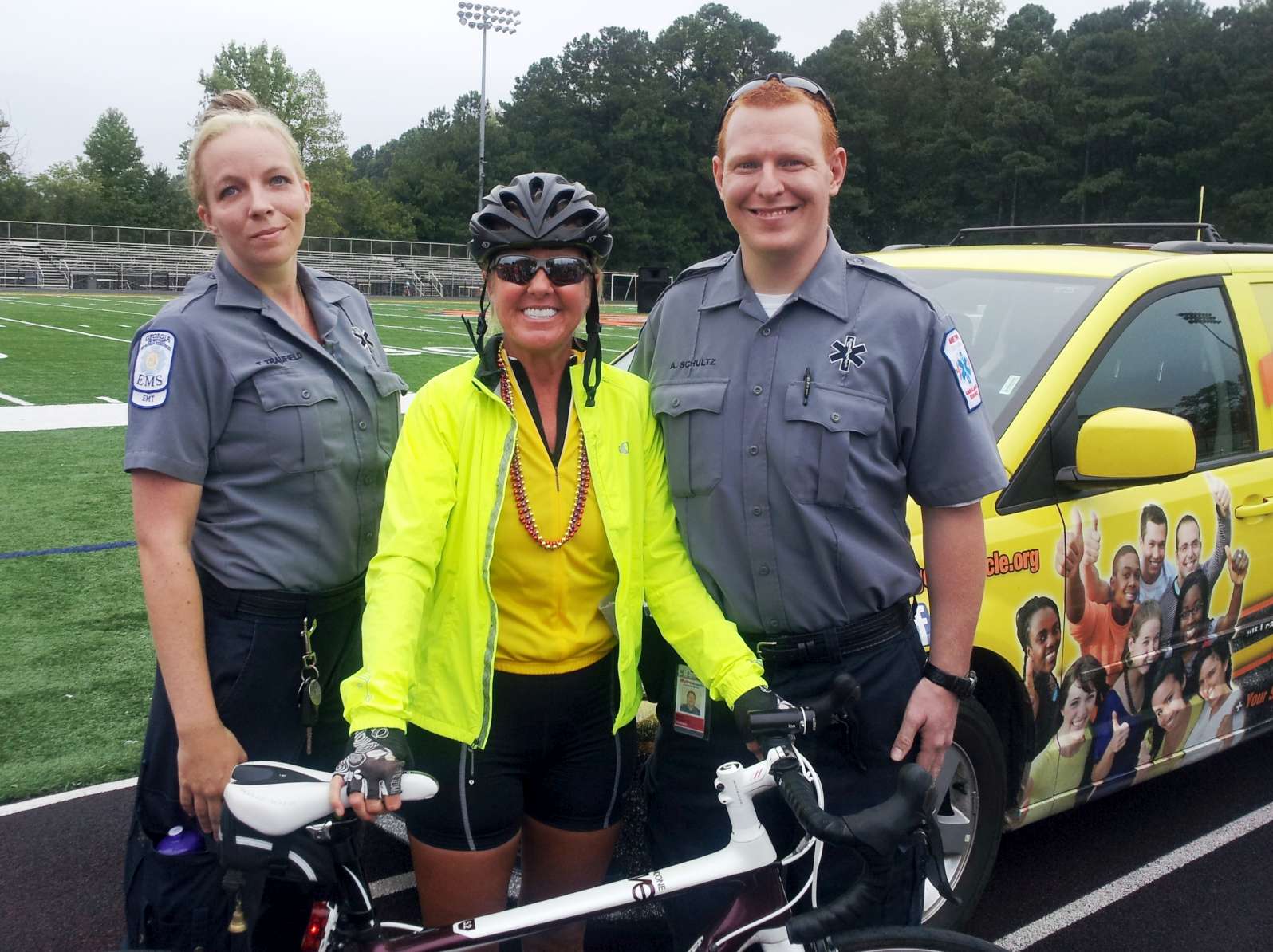 Dr. Salierno summed it all up in her online diary writing It is finished! Almost 3,300 miles and 15 states and I can hardly believe it. But something I read has really resonated with me. "Courage is not the absence of fear, but rather the judgment that something else is more important than fear." And what was more important than fear for me was that there are hundreds of thousands of children in our world who are in a downward spiral to destruction because they do not have adults in their lives to guide and lead them. So I cycled across our nation to generate awareness not only for their predicament but that there is a program, Teach One to Lead One, that places mentors in their lives to teach them universal principals to become leaders.
Yesterday was the Grand Finale of the Challenge the Cycle tour. I had ended the day Friday in Emerson and cycling into my home state of Georgia was very emotional for me because of how far we had come. So yesterday that is where I began the last 10 miles to reach North Cobb High School, the first school to adopt the Teach One to Lead One program.
I cycled the first mile alone, but then about 12 cyclists came alongside of me to encourage me and celebrate the last stretch of road to Acworth. We were then met in downtown Acworth by the mayor and a police escort to North Cobb High School. Kids of all ages cycled around the stadium with me and it was such a phenomenal welcome home from friends, family, and supporters! To know that there were so many who supported me throughout the Challenge the Cycle Tour was heartening and gave me the confidence to go the distance.
This is what kids need . . . supporters who love them to give them the confidence to go the distance. My cycle adventure may be finished but the goal to raise funds for 10,000 kids to go through the Teach One to Lead One Program is still on the table. 10,000 seems like such a formidable number but not any more formidable than cycling over 3000 miles. If I can do that, then as a community we can do this! So let's keep on keeping on and spread the word!
I am so thankful for all of your support, your love and your encouragement. I love you!
For more information on the Celebrate Life "Challenge the Cycle Tour" and to make a donation go to:
http://challengethecycle.org/#story-section-1